mental Strength expert
ex-special forces, author, speaker
mental Strength expert
ex-special forces, author, speaker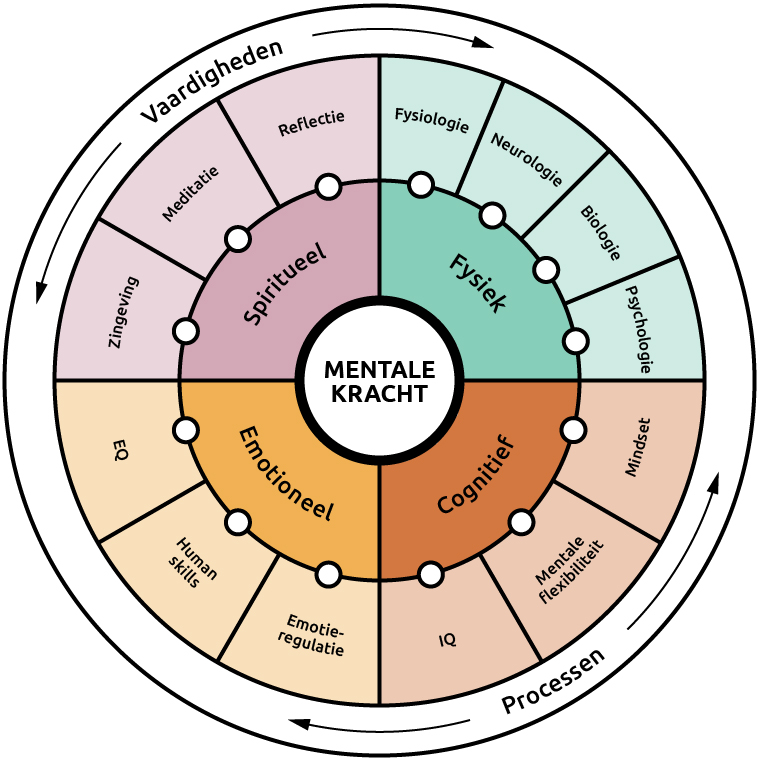 De vier componenten in dit model lijken losse onderdelen, maar zijn dat niet. Ze beïnvloeden elkaar en hebben allemaal raakvlakken. De kunst is om inzicht te krijgen in hoe deze componenten samenwerken en elkaar versterken. Je zou het ook kunnen zien als het wiel van de mentale kracht, en er zal beweging in moeten komen als je je mentale kracht wilt versterken. (bron; Mentale Kracht, de wereld van nu vraagt erom)
Dai ontwikkelde dit model om inzicht te geven in hoe mentale kracht kan werken voor individuen en organisaties. Het model is gebaseerd op zijn definitie van mentale kracht: mentale kracht bestaat uit alle fysieke, cognitieve, emotionele, spirituele vaardigheden en processen die het bewustzijn positief beïnvloeden. Zijn definitie komt voort uit grondig literatuuronderzoek en zijn jarenlange ervaring bij de Special Forces. Dai zet zich op verschillende manieren in om mensen mentaal krachtiger te maken en daarmee hun weerbaarheid en veerkracht te versterken. Dat doet hij door te schrijven en lezingen te geven over deze zeer belangrijke thema's.
At seventeen, Dai chose a life as a soldier. When he was eighteen, he went on a mission to Afghanistan for the first time. It was his goal to become a commando and at the age of twenty he completed the grueling commando training. There his career began with the Dutch Special Forces. He served in the Korps Commandotroepen for ten years and went on missions to various conflict zones. As a Special Forces Medic, Dai has always had a deep interest in physiology, psychology, biology and neurology. Over the years he has built up a lot of knowledge in the field of Mental Strength. He wanted to share this knowledge with a wider audience and decided to write a book about it. In addition to the book, Dai has developed a model with which organizations and individuals can strengthen their Mental Strength. Dai is one of the head instructors in the successful TV program Kamp van Koningsbrugge.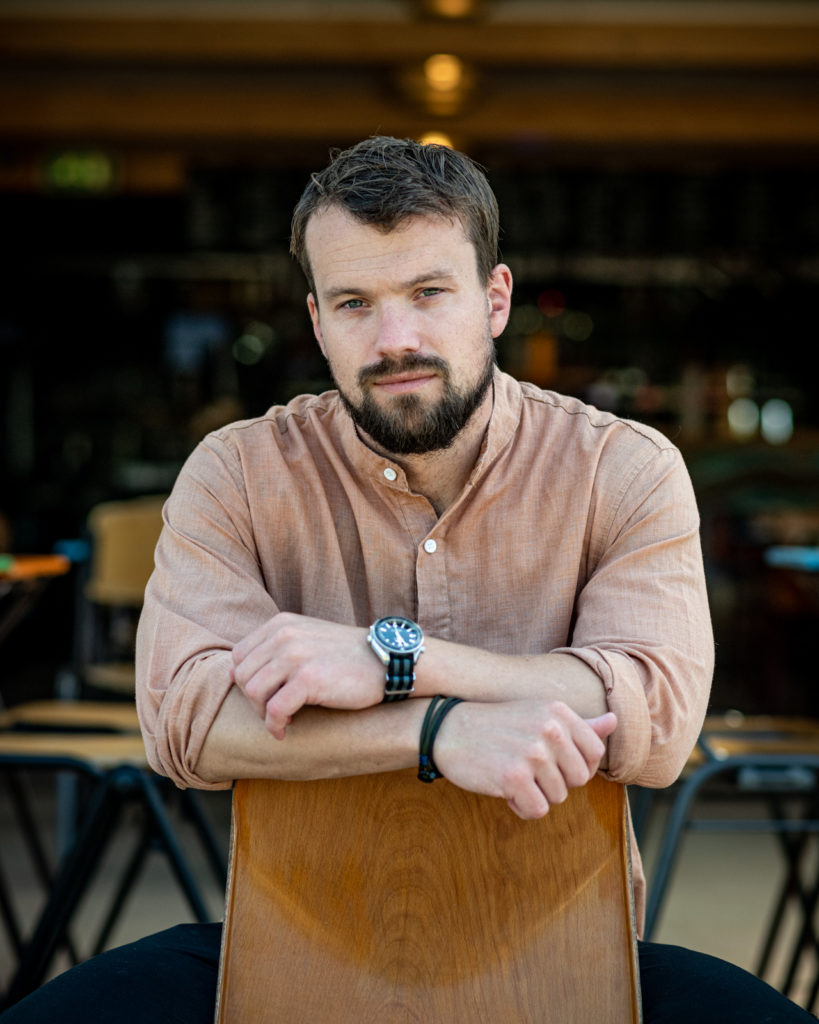 De wereld van nu leeft met de gevolgen van de pandemie en de oorlog in Europa. Gevolgen die nog vele jaren invloed zullen hebben op het mentale welzijn van de mensheid. Onze informatiegedreven maatschappij zorgt voor mooie ontwikkelingen, maar ook voor dreigingen. Mentale kracht speelt een belangrijke rol in hoe we zaken als sociale media, klimaatverandering, burn-out en de gevolgen van een pandemie en oorlog tegemoetgaan.
Dai Carter, voormalig commando speciale operaties en bekend van tv, leert je hoe je jezelf mentaal kunt wapenen tegen de wereld van nu. Door zijn kennis en ervaring is hij een expert op het gebied van mentale kracht. Maar wat is mentale kracht nu precies? En hoe kan het je helpen je te wapenen tegen de wereld van nu?
Dai stelt dat veerkracht en weerbaarheid belangrijker zijn dan ooit. Als je de vaardigheid hebt om veerkracht en weerbaarheid toe te passen, zal dat je mentale kracht versterken. Dai geeft praktische tips zodat je kunt bouwen aan je mentale kracht, want de wereld van nu vraagt erom.
'Als Dai een boek schrijft dan zorg je dat je het leest. Een aanrader!'
'Dai deelt zijn verhaal op een toegankelijke manier. De lessen die je van hem kunt leren zijn waardevol en bruikbaar voor iedereen.'
'Dai Carter houdt een relevant pleidooi voor doelgericht leven in een wereld die op shuffle staat.'
We always operate in the utmost secrecy. And must be physically and mentally prepared for the most extreme challenges. Now or never.

The Korps Commandotroepen are the Special Forces of the Royal Netherlands Army. Not everyone is suited for this work. In fact, only a very select few can call themselves Commando Special Operations. If you pass commando training, it is not only because of your physical strength, but mainly because you are mentally strong.
How wonderful would it be to learn how to apply mental power in your own life? Dai Carter shares in this book the lessons he took from his career with the Dutch Special Forces. He discovered how important it is to be mentally strong especially in everyday life. It is his personal mission to share his story with anyone who wants to strengthen his or her mental strength.
Dai Carter (1989) served thirteen years in the Royal Netherlands Army, the last ten of which with the Korps Commandotroepen. He went to different conflict zones and carried out secret missions. Dai is one of the lead instructors in the successful TV program Kamp Van Koningsbrugge.